DALIAN RICHON'S REPORTS FOR TIRE INDUSTRY 2019
2019-01-29
DALIAN RICHON'S REPORTS FOR TIRE INDUSTRY 2019
1. from 2nd half 2018~spring festival 2019, the operation rate of Chinese tire factories is around 60-70%. As of October 30, the overall start-up of domestic tire enterprises rose to 60.67%, the operating rate of all steel tires was about 66%, the operating rate of semi-steel tires was about 64%, and the operating rate of bias tires was about 52%.
2. the expectation of the operation rate of Chinese tire factories after spring festival will little down around 60%.
3. the influence of CHINA-USA TRADE DISPUTE on the operation rate of Chinese tire factories: Most companies are rushing to deal with US orders in late 2018 in order to avoid trade wars and impose a 25% tariff increase in January 2019(extend to Mar.1, 2019th). Now some of them hold and waiting.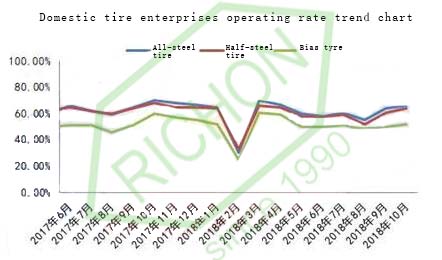 Recently, the Spring Festival holiday time of major domestic tire companies has been confirmed.
Through comparison, this year, most manufacturers have longer holiday time than in previous years.
The 37 domestic tire factories, the earliest suspension of business holiday is January 7th, the latest is February 3.
Most tire companies return to work from February 11 to 14, and the holiday time ranges from 7 days to 38 days.
Among them, there are 3 factories that have been discontinued for more than 30 days, 23 factories that have been shut down for 10-23 days, and 7 factories that have been shut down for 10 days or less; 4 factories are not stopped.
It is understood that this year, the reasons for tire manufacturers to lengthen the holiday time, there are three main points.
First, the overall demand in the domestic and international markets has been dull, and some manufacturers have not shipped well, and they have a holiday in advance;
Second, some tire companies have high inventory levels, and suspension of production can ease inventory pressure;
Third, in the case of high inventory, there is a problem with the turnover of individual factories, so they choose to suspend production.