richon chem rubber antioxidants tmq market analyse
2018-10-22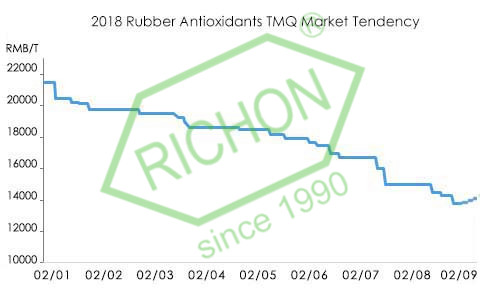 This is antioxidant TMQ's Chinese local price in 2018. The figure shows that the price of the Rubber Antioxidant TMQ in the first three quarters of 2018 shows downward TMQ trend, with the market price dropping down by 36%.
Richon Chem assessed that, in the first three quarters, the sustained decline of TMQ price is mainly affected by three factors.
First, the overall price of raw materials acetone and aniline is in a downward trend in the year, therefore, driving down TMQ price.
Second, the overall demand of the tire and other rubber products industry is weak; the relative supply of the rubber antioxidants is greater than the demand, which leads to the pressure on the inventory of TMQ.
Third, the export market of TMQ is flat, especially for the enterprises with relatively large export ratio. The trade war between the USA and China also cost the pressure on the inventory of some factory. The price which more than USD2.5/kg is not completive on international market.
After late September, the price of Chinese tire and other rubber products increased, therefore driving the demand for rubber antioxidants TMQ. At the same time, under the influence of the Chinese government, some rubber antioxidants TMQ production factories are limited in production, resulting in a tightening of supply. After The National Day, the government might be pushing more strength on supervision.
Richon chem believes the price of TMQ will rise in Q4 after finishing at the bottom. The price will stable or little down at end of 2018 to early of 2019, will rise again from Feb. of 2019.